I live and have a studio in Lowell, Ma., USA. I grew up near Philadelphia, Pa., and earned my BFA from Tyler School of Art, Philadelphia and Rome, Italy. My work is in public and private collections throughout the US and the UK. If you are interested in purchasing or commissioning a work, please contact me at anneelizacook@gmail.com.
I first start with an impression of a subject, whether it be a place, person, still life, and the way the
dynamics and light in the composition create some kind of energy I find interesting. I focus more on developing the feeling of the piece rather than try to impress with technique. I might do some drawings, take some photos, draw some compositional sketches. I do not have a standard way of developing a piece. Sometimes I just start directly painting on the canvas and make corrections as I go; other times, especially with more complex pieces, I plan a composition by drawing individual elements and make photo copies of them at various sizes and cut apart and tape them together before starting the painting. I usually have the partially finished work sitting in the living room where I can study it until the next time I work on it. Occasionally I think that a painting needs something else before it's complete, and I need to study it longer before I come up with a solution.
My most significant artistic accomplishment to date must be the Providence Art Club's National Open Juried Exhibition in Providence, RI. in June, 2019. I am very proud that my painting, "Winter Afternoon, Lowell" was selected to be included with the other 65 works.


I've created art as long as I can remember. My first realization that I could be an artist when I grew up was when my family visited the special Van Gogh exhibit at the Philadelphia Museum of Art when I was age 7. I was enthralled. I bought my first art post card of his sunflowers from the gift shop as a souvenir.
I think that the urge to create art is an innate one with me, since I don't remember a time when I didn't want to draw or paint what I saw in the world or in my mind. I felt from a young age that I would always make art in a serious way as a profession no matter what. I never had a thought of being anything other than an artist.
Merrimack Valley Life Magazine, August 2020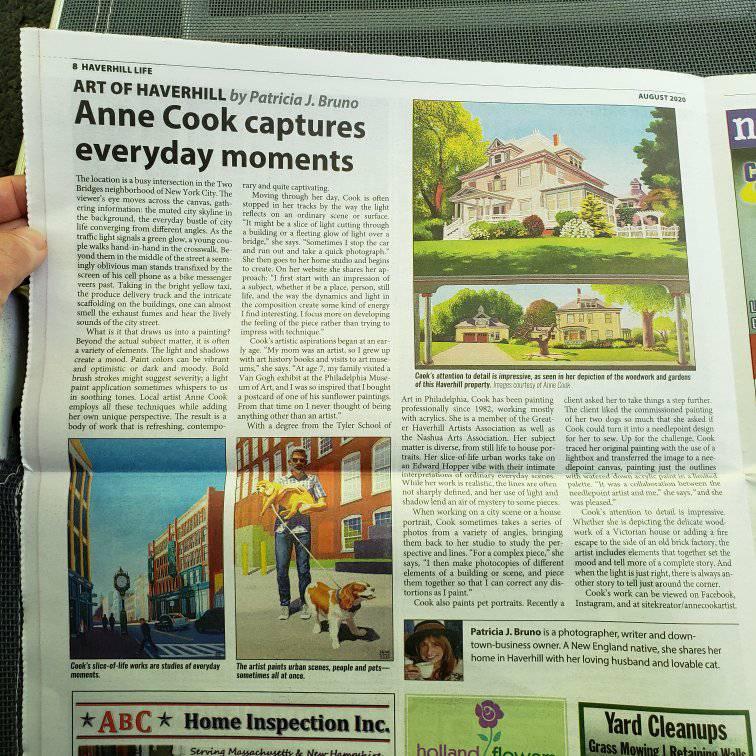 Lowell Sun Newspaper Weekend Sunday suppliment - UnchARTed Gallery exhibition announcement, - April 2016

Boston Globe –
featuring photo of the SEIU Big Dig Mural at the union headquarters, Malden, Ma., 2006

South Shore Enterprise
– Article about my art, 2002